Amplificateurs - Sonos

Vous trouverez sur cette page la liste des annonces Amplificateurs - Sonos en occasion ou neuves au meilleur prix
For sale a beautiful sounding and very well maintained Cello Audio Suite preamplifier with original Fischer connectors. The Audio Suite consists of: o 1 * P301 Output module. o 1 * P100 Phone module. o 3 * P200 Line modules. o 1 * B200 (RCA) Line module. o Master Power Supply (PSU). o Power cable PSU (1 metre long). o 5-pole Power cable for connection between Audio Suite and PSU with new spade connectors (5 metre long). o User manuals: 2 different Owner manuals plus sheet to transfer PSU from 220 Volt to 110 Volt (and vice versa). o Original inner and outer boxes of Audio Suite. PSU will be packed in separate inner and outer box. Audio Suite, PSU and cables are in absolute perfect technical condition
Audio - Télé - DVD - CD
Amplificateurs - Sonos
Amplis Technics
For sale a beautiful sounding and very well maintained Cello Audio Suite preamplifier with original Fischer connectors. The Audio Suite consists of: o 1 * P301 Output module. o 1 * P100 Phone module. o 3 * P200 Line modules. o 1 * B200 (RCA) Line module. o Master Power Supply (PSU). o Power cable PSU (1 metre long). o 5-pole Power cable for connection between Audio Suite and PSU with new spade connectors (5 metre long). o User manuals: 2 different Owner manuals plus sheet to transfer PSU from 220 Volt to 110 Volt (and vice versa). o Original inner and outer boxes of Audio Suite. PSU will be packed in separate inner and outer box. Audio Suite, PSU and cables are in absolute perfect technical condition.
Audio - Télé - DVD - CD
Amplificateurs - Sonos
Amplis Technics
home cinéma yamaha , ampli tuner vidéo audio, état excellent, avec 2 enceintes avant , 1 enceinte centrale, 2 enceintes d,ambiance , 1 caisson de grave( subwoofer) 1 télécommande le tout a retirer chez le vendeur
Yssac-la-tourette
63 - Puy de Dome
Audio - Télé - DVD - CD
Amplificateurs - Sonos
Amplis Yamaha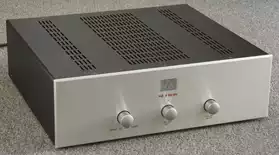 Condition Serial #6PV2-151, AUDIO NOTE M6 PHONO & LINE Preamplifier, Made in UK, 120V 60Hz. Unit is in SUPERB condition. One owner piece. Unit is in SUPERB working condition and sounds great. All tubes test STRONG on calibrated TV7au. Includes Original Carton. Includes print out of Owners Manual.
Audio - Télé - DVD - CD
Amplificateurs - Sonos
Amplis Cambridge
A vendre, mon DAC est absolument comme neuf. Chord Electronics Hugo TT 2 DAC ! Je l'ai acheté chez un revendeur agréé agréé et je n'aurais jamais pensé le vendre. Mais, je réduis la taille de ma configuration de casque et l'investis dans une nouvelle configuration de haut-parleurs. Il me manquera à coup sûr, c'est de loin le meilleur équipement auquel j'ai jamais branché un casque. Il lui reste la quasi-totalité de sa garantie d'origine. J'ai tous les emballages et accessoires d'origine et je vais l'emballer et l'expédier comme neuf. J'inclurai également des câbles d'enceintes qui se connectent aux sorties XLR symétriques du TT2, afin que vous puissiez y brancher des enceintes et les piloter directement avec jusqu'à 18 watts par canal. J'inclurai également un adaptateur XLR-4 pour que vous puissiez brancher n'importe quel câble de casque symétrique aux sorties symétriques du TT2.
Audio - Télé - DVD - CD
Amplificateurs - Sonos
Amplis Cambridge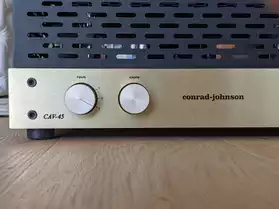 Heures basses, très bon état. Un rare pour CJ trois entrées et un contrôle de volume. Le transformateur principal a des gouttes d'adhésif et une petite bosse sur le dessus, comme celui du fabricant. Emballage d'origine, manuel, outil de biais, etc. Je l'ai (à peine) utilisé avec le B&W 804S (maintenant vendu), c'est mon système secondaire, donc à peine utilisé. Maison sans fumée et sans animaux.
Audio - Télé - DVD - CD
Amplificateurs - Sonos
Amplis Technics