Amplis Technics

Vous trouverez sur cette page la liste des annonces Amplis Technics en occasion ou neuves au meilleur prix
Luxman C-1000f for sale, in mint condition and comes with all accessories
Audio - Télé - DVD - CD
Amplificateurs - Sonos
Amplis Technics
Bonjour je vend ma barre de son la marque Muse vous pouvez écouter les radios mettre votre téléphone portable pour amplifier le son
Audio - Télé - DVD - CD
Amplificateurs - Sonos
Amplis Technics
the condition is excellent mint , comes with the user manual box and remote, asking price is 1200EUR
Espagne : Barcelone
99 - Autres
Audio - Télé - DVD - CD
Amplificateurs - Sonos
Amplis Technics
For sale a beautiful sounding and very well maintained Cello Audio Suite preamplifier with original Fischer connectors. The Audio Suite consists of: o 1 * P301 Output module. o 1 * P100 Phone module. o 3 * P200 Line modules. o 1 * B200 (RCA) Line module. o Master Power Supply (PSU). o Power cable PSU (1 metre long). o 5-pole Power cable for connection between Audio Suite and PSU with new spade connectors (5 metre long). o User manuals: 2 different Owner manuals plus sheet to transfer PSU from 220 Volt to 110 Volt (and vice versa). o Original inner and outer boxes of Audio Suite. PSU will be packed in separate inner and outer box. Audio Suite, PSU and cables are in absolute perfect technical condition
Audio - Télé - DVD - CD
Amplificateurs - Sonos
Amplis Technics
For sale a beautiful sounding and very well maintained Cello Audio Suite preamplifier with original Fischer connectors. The Audio Suite consists of: o 1 * P301 Output module. o 1 * P100 Phone module. o 3 * P200 Line modules. o 1 * B200 (RCA) Line module. o Master Power Supply (PSU). o Power cable PSU (1 metre long). o 5-pole Power cable for connection between Audio Suite and PSU with new spade connectors (5 metre long). o User manuals: 2 different Owner manuals plus sheet to transfer PSU from 220 Volt to 110 Volt (and vice versa). o Original inner and outer boxes of Audio Suite. PSU will be packed in separate inner and outer box. Audio Suite, PSU and cables are in absolute perfect technical condition.
Audio - Télé - DVD - CD
Amplificateurs - Sonos
Amplis Technics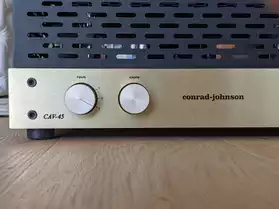 Heures basses, très bon état. Un rare pour CJ trois entrées et un contrôle de volume. Le transformateur principal a des gouttes d'adhésif et une petite bosse sur le dessus, comme celui du fabricant. Emballage d'origine, manuel, outil de biais, etc. Je l'ai (à peine) utilisé avec le B&W 804S (maintenant vendu), c'est mon système secondaire, donc à peine utilisé. Maison sans fumée et sans animaux.
Audio - Télé - DVD - CD
Amplificateurs - Sonos
Amplis Technics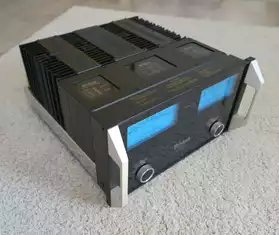 McIntosh MC462 integrated amplifier (2x450W) in immaculate condition, with full package (original double box), accessories (manual, power cable). Schucko power cable. The amplifier looks and works perfectly. It has a huge power and can drive even the most demanding speakers. Used very lightly in free from smoke and pets house with C2700 preamplifier. 7 moths old. The invoice for the remaining warranty will be included.
Bréhain-la-ville
54 - Meurthe et Moselle
Audio - Télé - DVD - CD
Amplificateurs - Sonos
Amplis Technics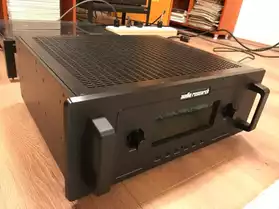 For sale is an Audio Research Ref 5 SE in perfect, like new condition, with all its accessories and in original box. Interested persons should please include their email when contacting me and i will be happy to reply and provide all necessary information.
Espagne : Barcelone
99 - Autres
Audio - Télé - DVD - CD
Amplificateurs - Sonos
Amplis Technics